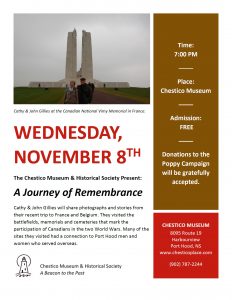 Join us at the Chestico Museum on Wednesday, November 8th at 7 PM for "A Journey of Remembrance".
Cathy & John Gillies will share photographs and stories from their recent trip to France and Belgium. They visited the battlefields, memorials and cemeteries that mark the participation of Canadians in the two World Wars. Many of the sites they visited had a connection to Port Hood men and women who served overseas.
Admission is free. Donations to the Poppy Campaign will be gratefully accepted.