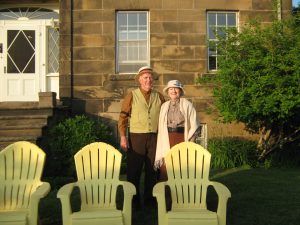 The Chestico Museum & Historical Society is pleased to offer walking tours of Port Hood this summer.
Chestico Museum guides in historic costume (John & Cathy Gillies) will bring the past alive as they highlight the people, events, sights and architecture of Port Hood's past.
In addition to telling stories of Port Hood's history, John and Cathy will focus on a few buildings in the community that were standing at the time of Confederation in 1867.
The Port Hood Walking Tour is offered on:
Monday, July 10
Monday, July 17
Monday, July 24
The 2 hour Port Hood Walking tour departs from the Ceilidh Co-op parking lot at 6:00 PM SHARP.
Tickets for the Port Hood Walking Tours cost $15 and are available for purchase at the Chestico Museum.