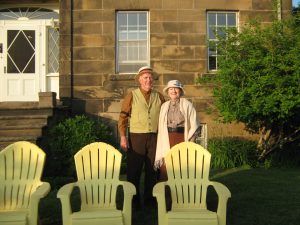 The Chestico Museum & Historical Society is pleased to offer walking tours of Port Hood this summer.
Chestico Museum guides in historic costume (John & Cathy Gillies) will bring the past alive as they highlight the people, events, sights and architecture of Port Hood's past.
The Port Hood Walking Tour is offered on:
Monday, July 10
Monday, July 17
Monday, July 24
Monday, July 31
Monday, August 7
Monday, August 14
The 2 hour Port Hood Walking tour departs from the Ceilidh Co-op parking lot at 6:00 PM SHARP. The tour includes a stop at the Stone House (pictured above).
Tickets for the Port Hood Walking Tours cost $15 and are available for purchase at the Chestico Museum.