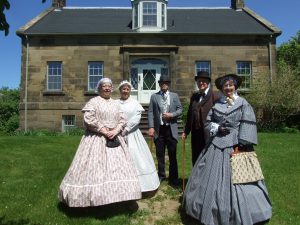 The Chestico Museum & Historical Society will present a Confederation Tea on Canada Day from 2 PM to 4 PM at the Port Hood Stone House (324 Main Street).
This is your opportunity to meet Port Hood's politicians from 1867! In this photo we see few of the Port Hood residents from that era that we expect to see at our Confederation Tea! From left to right: Eliza Blanchard, Annie (Smyth) MacDonell, Hiram Blanchard, Peter Smyth and Eleanor Smyth.
Costumed animators will discuss the politics of the day while guests enjoy tea and refreshments in the beautiful Victorian setting of the Stone House.
Tickets are available at the museum at a cost of $10 (adults) and $5 (children). Everyone welcome!