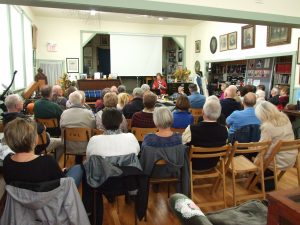 On Tuesday, October 11th, the Chestico Museum hosted a Celtic Tales & Colourful Yarns storytelling session at the museum. The event was part of Celtic Colours Cultural Experiences series. We were thrilled to welcome a large crowd – including some locals as well as guests from across Canada, the United States and even a group from Scotland.
This year our focus was colourful characters people from the past. Although not "famous" as such, these individuals were both interesting and entertaining. We had two wonderful storytellers with us who generously gave of their time.
Longtime Historical Society volunteer John Gillies had a number of well received stories including ones about Kate Liz (Moran) Cail, Albert Muise and Fr. Donald MacPherson.
We were also pleased to welcome back a past storyteller, Isaac MacEachen, who was in costume to regale us with his tales of Sandy Jim MacDonald!
Chestico Historical Society Past President Anne Beaton was our emcee and she joined in on the fun with stories about John and Isaac. We even had a chance to hear from some audience members.
There were a number of draws for door prizes throughout the afternoon and our winners went home with an assortment of hand crafted items.
At the end of the Storytelling we had the draw for the Chestico Tartan Blanket. Our winner was Bernard G. MacDonald from Mabou. Congratulations Bernie!
You can view some photos of the day on our Facebook page.