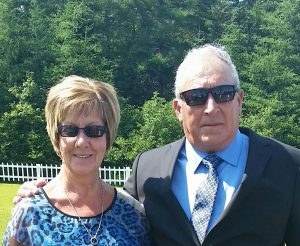 The Chestico Museum and Historical Society is pleased to honour Sadie and Edgar Spears as this year's Chestico Couple.
Sadie was born in Rockingham, Nova Scotia to Evelyn (Lynch) and John Angus MacLean. When Sadie was just a young girl her family moved back to the MacLean family home in Mabou Harbour.
Edgar grew up in Port Hood. He is the son of Charity (Dort) and Rob Spears.
Sadie and Edgar met at a dance in Port Hood. Two years later wedding bells rang for the couple. They were married in St. Mary's Church, Mabou on August 13, 1966. The best man was Angus MacLean, the maid of honour was Evelyn Hawley (the future Mrs. Angus MacLean!), the groomsman was Lloyd Spears and the bridesmaid was
Thelma Hawley.
After their marriage, Edgar and Sadie settled in Port Hood. Edgar worked for a time at the water plant but has spent the majority of his working life in the fishing industry. Sadie worked at Mary's Hill Home in Mabou and more recently at a Group Home in Port Hood.
Sadie and Edgar raised a family of 3 sons and 1 daughter – Robbie, Kim, Larry and Garth. Today they are also blessed with 15 grandchildren.
Sadie and Edgar both remain busy with work but they do enjoy going camping when the opportunity arises. They also enjoy spending time with their grandchildren.
Sadie and Edgar, we are pleased you accepted our invitation to be this year's Chestico Couple. Enjoy the experience and accept our congratulations as you celebrate fifty years of married life!