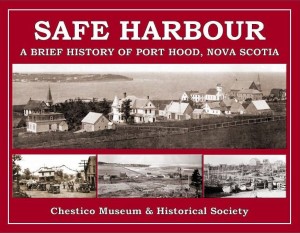 The Chestico Museum has published Safe Harbour: A Brief History of Port Hood, Nova Scotia.
The book is an 80 page richly illustrated history of the village/town of Port Hood from its establishment to the present day. It is made up of four sections: Pioneer Phase 1700-1850, Heyday Period 1850-1910, The Modern Century 1910 – Present and Port Hood Island.
Safe Harbour is available for purchase at the Chestico Museum at a cost of $25.
If you wish to have the book shipped to you the cost (including shipping) is:
American Orders: $37.93
Canadian Orders: $33.44
To order your book, simply send a cheque or money order with your payment to:
Chestico Museum & Historical Society
P.O. Box 144
Port Hood, Nova Scotia
B0E 2W0