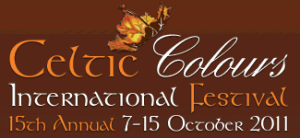 On Tuesday, October 11th, the Chestico Museum hosted Storytelling and Afternoon Tea at the museum.  The event was part of Celtic Colours Cultural Experiences series.
John Gillies was our master of ceremonies for the afternoon and as usual did a fantastic job!
Our first storyteller was Eileen MacDonald who came to Port Hood as an English War Bride following World War II.
Eileen was followed by Anne Beaton who spoke of  her experiences growing up in a family of 12 in Hawthorne.
Rounding out the event was Marilyn Verge who shared stories of her father, John Guest who came to Port Hood as a British Home Child.
All three women did an absolutely wonderful job and their stories were very much appreciated by the many who turned out to hear them.
We also had the draw for the Chestico Tartan Blanket. Our winner was Kay MacDonald from Judique who is a long time member of the Chestico Museum.
You can view some photos of the day on our Facebook page.