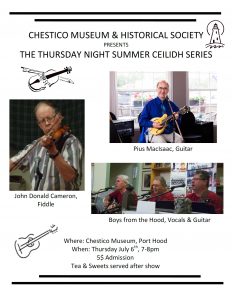 The first ceilidh of our 2017 summer ceilidh series will be Thursday, July 6th at 7 PM at the museum.
Our opening ceilidh will feature:
John Donald Cameron – Fiddle
Pius MacIsaac – Guitar
Boys from the Hood – Guitar & Vocals
Admission is $5. Tea and light refreshments will be served following the show.
We look forward to seeing you at a Chestico Museum ceilidh this summer!