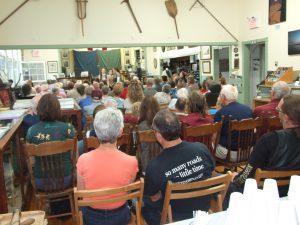 The fifth ceilidh of the Chestico Museum's 2016 summer ceilidh series was held on August 4th. We had a huge crowd in attendance for this special Chestico Days Week ceilidh and everyone was certainly well entertained!
The talented Stephanie MacDonald played fiddle and she was beautifully accompanied by Amanda MacDougall on piano.
Stephanie and Amanda provided music for Amanda MacDonald who showcased some wonderful step dancing. Amanada was later joined by Eilidh Campbell and Burton MacIntyre even got up and showed us a few steps!
The Campbell Sisters (Mairinn , Eilidh and Seonaid) were with us and are a real treat! They play piano, fiddle and guitar and also step dance and sing wonderfully well.
Frances MacEachen was also with us to share a number of Gaelic songs that were beautifully done. Frances also sang with her daughter Lily.
And last but not least, we had our own summer student Kati van Zutphen who brought along her guitar and sang for us. What a talent!
We had a chance as well to introduce the 2016 Chestico Couple – Sadie & Edgar Spears – who were in attendance. Best wishes to Sadie & Edgar as they celebrate their 50th anniversary!
It was a most enjoyable evening. You can view some photos of the evening on our Facebook page. You can also watch videos of Stephanie & Amanda, the Campbell Sisters, Amanda step dancing, Frances & Lily, Eilidh and Amanada dancing and Kati!