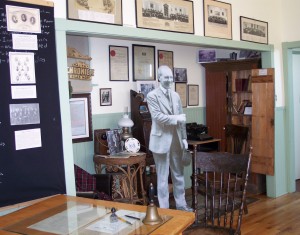 The Chestico Museum has operated as a community museum since 1986.  Highlighting the history and heritage of the Port Hood area, its mission has been to provide local residents and visitors to the area with a unique heritage experience.  Volunteers in the community and summer students under the direction of dedicated museum directors have carried on research and created exhibits for the education and entertainment of all.  Port Hood's marine heritage during the Age of Sail, its heyday as a coal mining town in the early twentieth century and its status as the county seat and commercial centre for Inverness have all been sources for new displays over the years.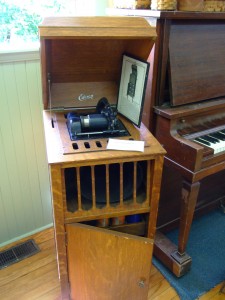 Most of the artifacts in the Chestico Museum came from the estate of John Smith Hart (1876 – 1964), a merchant and long time resident of Port Hood.  They reflect the household of a middle class family living in the area in the late 19th and early 20th centuries.  Furnishings, dishware, photographs, clothing and books form the backbone of our collection.  In addition to this, we have such unique items as a printing press belonging to former Port Hood Greetings printer D.W. Jones, a bottle manufactured by the Port Hood Bottling Factory, a 1919 Thomas Edison working gramophone with original Amberol cylinder records, locally made ship's models, agricultural and fishing implements and an extensive collection of antique clothes irons dating back two hundred years.
Over the years, the Chestico Museum has researched and created exhibits focused on the fishing and coal mining industries in Port Hood as well as our local veterans of both World Wars.  Other projects undertaken in the last several years include the participation in Historic Places Initiative which profiles heritage properties in Nova Scotia, Passage Project which has allowed us to upload our museum collection online to the Virtual Museum of Canada and Community Memories for which we have contributed an online exhibit entitled Highland Connections: Port Hood, World War I and the Cape Breton Highlanders Overseas.
The following gallery contains a selection of photographs of items from our museum collection.  You can view a more complete listing of artifacts in the Virtual Museum of Canada's Image Gallery.  The same site also allows you to browse through a selection of our Made in Nova Scotia artifacts.