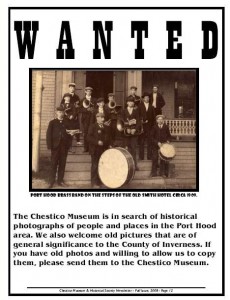 Staff at the Chestico Museum are currently working on an inventory of Port Hood heritage properties.  You may see us around the village taking photographs of both houses and public buildings.
We would also like to add historic photos of old Port Hood to this inventory.  If you have any old photographs, particularly of structures that no longer exist, please consider allowing us to make a copy of your pictures.  
If you believe you have photos that would be of interest to us, please let us know. 
We look forward to hearing from you!