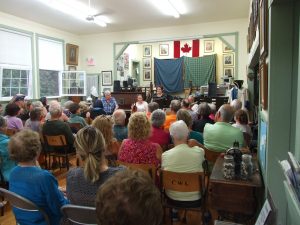 The final ceilidh of the Chestico Museum's 2016 summer ceilidh series was held on Thursday, August 25 and we had a big crowd in attendance!
We were thrilled to have Dara Smith-MacDonald as our fiddler and Joey Beaton of Mabou was here to accompany her on the piano. Joey also played a couple of solo pieces for us.
Bill MacDonald of Judique was back for the second time this year. Bill is a great guitar player who joined in with Dara and Joey, treated us to his wonderful rendition of "Kitchen Racket" and accompanied Marie Aucoin.
Marie has a lovely voice and we enjoyed her performances of "The Briar and the Rose", "Home I'll Be" and "Danny Boy".
It was a great end to our ceilidh season. Our ceilidhs were organized by summer students Shannon MacLennan and Kati vanZutphen. They did a great job and we thank them for all their hard work!
Thank you as well to everyone who so generously gave of their time to perform at our ceilidhs, to all who baked for our ceilidh teas and to everyone who came out to support us on Thursday evenings this summer. We hope to see you all again next year!
You can view  photos of the evening on our Facebook page. You can also watch videos of Dara, Joey and Bill, Joey, Bill and Marie & Bill.