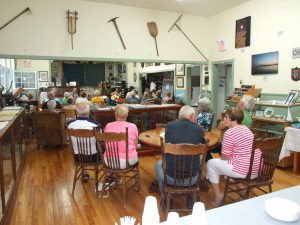 The seventh ceilidh of the Chestico Museum's 2016 summer ceilidh series was held on August 18th.
We were happy to have Alain Pelletier with us as our fiddler. Alain is the proprietor if the Fiddle and the Sea Bed & Breakfast in Port Hood. He also treats his guests to his fiddle tunes!
Pius MacIsaac was back with us for another ceilidh. He accompanied Alain and also did a few solo numbers.
And last but not least we had Lauchie Beaton to sing for us. Lauchie brought Rita Rankin along with him and their voices blended together beautifully.
You can view  photos of the evening on our Facebook page. You can also watch videos of Alain and Pius, Pius and Lauchie and Rita.