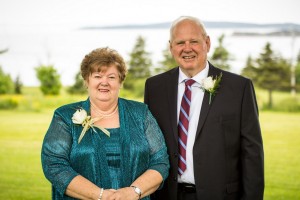 The Chestico Museum and Historical Society is pleased to honour Teresa and John vanZutphen as this year's Chestico Couple.
Teresa grew up in Colindale. She was one of 9 children born to Florence (MacDonald) and Patrick Morris.
John was born in Holland to Elizabeth (van den Hoogen) and John van Zutphen. In 1951 the van Zutphen family made the decision to immigrate to Canada. They settled first in Ontario but in 1952 they bought a farm and moved to South West Mabou.
Teresa and John met through the Catholic Youth Organization in Port Hood. Soon wedding bells rang for the couple on July 3, 1965. They were married in St. Peter's Church, Port Hood. Officiating at the marriage were Teresa's brothers, Father Eugene and Deacon (later Father) Angus Morris as well as John's brother, Father
Vincent.
After their marriage, Teresa and John settled in Port Hood. Teresa worked as a school teacher and John was kept busy with a contracting business he established with his brother, Ted in 1964. In 2014 Zutphen Contracting marked their 50th year in business. What began as a tiny contracting firm is now one of Atlantic Canada's
largest construction companies. The success of the business was recognized this past June when John & Ted were inducted into the Cape Breton Business Hall of Fame.
Teresa and John raised a family of 3 daughters and 2 sons – Patrick, Maureen, Lorraine, Harvey and Sheila. Today they are also blessed with 19 grandchildren. John is now semi-retired. He and Teresa enjoy pursuing their various interests and always can be depended upon to help out in the community. Teresa is involved with
Palliative Care, the Inverness Memorial Hospital Auxiliary and St. Peter's Parish C.W.L. John is a member of the Knights of Columbus #8275, serves St. Peter's Parish as a Eucharistic Minister, is a member of Port Hood Development and is involved with the Al MacInnis Sports Centre – particularly with their annual golf
tournament.
Teresa and John, we are pleased you accepted our invitation to be this year's Chestico Couple. Enjoy the experience and accept our congratulations as you celebrate fifty years of married life!