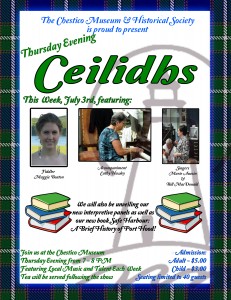 The first ceilidh of our 2014 summer ceilidh series will be Thursday, July 3rd at 7 PM at the museum.
Our opening ceilidh will feature:
Maggie Beaton – Fiddle
Cathy Hawley – Piano
Marie Aucoin – Vocals
Bill MacDonald – Guitar & Vocals
Admission is $5 for adults and $3 for children. Tea and light refreshments will be served following the show.
This ceilidh will also feature the unveiling of our new interpretive panels as well as the official launch of our book – Safe Harbour: A Brief History of Port Hood, Nova Scotia.
We look forward to seeing you as we kick off another summer of great ceilidhs at the Chestico Museum!