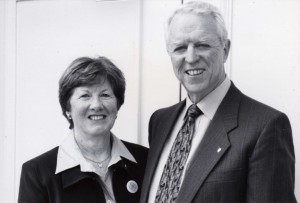 The Chestico Museum and Historical Society was pleased to honour Anne and Gerard Beaton as this year's Chestico Couple.
Anne grew up in Hawthorne. She was the sixth of twelve children born to Annie Mae (MacIsaac) and Duncan MacEachen. Anne received her education at Hawthorne
School, St. Peter's Convent and Port Hood Academy. She went on to further study at Normal College in Truro. Anne taught at country schools, Port Hood Academy and Port Hood Consolidated.
Gerard was the youngest of two children born to Katie (MacEachern) and Angus S. Beaton. He grew up on East Street and received his early education at St. Peter's Convent. Gerard went on to study at Port Hood Academy. Right out of school he went to work at the Royal Bank. Gerard then went on to work for the Municipality. He
began with the School Board Office and ended his 38 year career with the Municipality in the Tax Office.
Anne and Gerard knew each other throughout their childhood. Gradually a mere acquaintance merged into a friendship that deepened into something more. Wedding bells rang for the couple on August 10, 1963. They were married in St. Peter's Church in Port Hood.
After their marriage, Anne and Gerard built a home in Port Hood. Anne taught school and Gerard worked out of the Court House. Anne and Gerard's family grew to include two sons and two daughters – Gail, David, Elaine and Brian. Today they are also blessed with 8 grandchildren – Saxon, Katie, Austin, Flynn, Janie, Angus, John and Jamie.
Anne and Gerard are now both enjoying retirement and pursing their various interests. Anne is very involved with St. Peter's Parish CWL and the Ladies Auxiliary of the Port Hood Volunteer Fire Department. Anne has also served as President of the Chestico Historical Society since 2006. Gerard has been an active member of the Knights of Columbus for over 50 years, he continues to work with the Port Hood Ratepayers and he is the only living founding member of the Port Hood Volunteer Fire Department. Both enjoy gardening and the outdoors. Anne keeps busy making jams, jellies and fruit cakes. Gerard keeps busy tending his bee hives. He produces  Beemac honey and is also well known for his Rocky Ridge Maple Syrup.
Anne and Gerard, we are pleased you accepted our invitation to be this year's Chestico Couple. We hope you enjoyed the experience and accept our congratulations as you celebrate fifty years of married life!